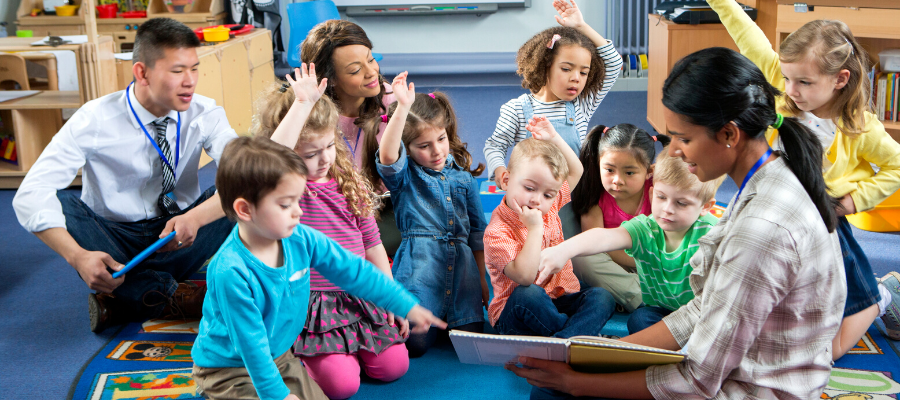 Programs and services especially for children.
Story Time
Story Time is every Wednesday at 10:00am in our children's area.

Share the fun of reading with your children ages 5 and under (all ages are welcome)! Children and their grownups will explore stories and activities to encourage children to develop a lifelong love of reading and learning. These 30-to-40-minute programs are designed to promote language and listening skills, expand children's imaginations and arouse their curiosity about the world around them.

We do not offer Story Time during the summer months due to our Summer Library Program.
Books for Newborns
The library donates books to the local hospital.

These books are then presented to newborns and their parents to emphasize the importance of reading in early childhood development.
Summer Library Program
This program goes from the end of May through the end of July.

Each year there is a different theme provided by the State Library of Iowa.

The Program provides reading incentives, games, crafts, & featured performers.

Children can participate in all aspects of this program or only the ones that interest them the most.

Children of all ages are welcome to attend.
1000 Books Before Kindergarten
Program to encourage parents to read to their children when they are young.

Parents read 500 books to their children before the child enters Kindergarten.

The child receives recognition through small prizes and through our wall of honor.

Once the child completes the program, he/she goes through a graduation ceremony.
Lego Challenge
Kids use Legos to build a new challenge each month.

This is scheduled one Thursday night at 6:30pm each month.

Kids of all ages are welcome to attend and parents are encouraged to attend as well.

Snacks are provided.
Family Fun Night
Families are invited to attend. All ages welcome.

This is scheduled for one Thursday night at 6:30pm each month.

Each month, there is a different activity for kids and parents to enjoy.

Snacks are provided.
Kids' Movies
Join us monthly for our free movie showing.

Movies are shown on the big screen with surround sound.

Popcorn is provided.
After School STEAM
Kids 7 and up join us on Monday afternoons after school for STEAM activities.

The first Monday of the month will be our Movie afternoon.

Kids will explore, experiment and discover through hands on learning activities.

Transportation is available at 3:05pm for free through SWITA at the primary elementary school and drop off at the library.
Special Programming
Several times throughout the year, we will offer programs on Saturdays or at additional times throughout the month.

Examples of some of the programs we offer are art programs, Love Your Library Programs, Stuffed Animal Sleepovers & etc.